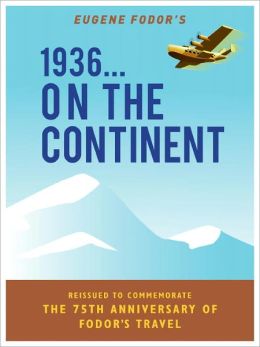 Spies lurked everywhere in Paris 1936,crouching behind the croissants, whispering behind their whiskies, sneaking under the snails. Nazis spies, of course, but also Italian, British, Red Russians, White Russians, and equal-opportunity spies who would work for the highest bidder, no matter what their politics. Plenty of American spies, too, of course, posing behind respectable facades such as that of…guide book writer.
Yes, dear old Eugene Fodor was also a spy. The Hungarian-born Fodor published his first book, 1936 – On the Continent in, well, 1936, and it was an immediate bestseller. It was the first modern guidebook, written in a chatty opinionated style that thumbed its nose at straitlaced cultural institutions such as Baedeckers and the Guide Bleu. Fodors Travel website offers it as a free download so you can see for yourself. Fodor tells it like it is. He doesn't romanticize the modern city. You'll laugh, you'll cringe, you'll cry.
The desire to take a daily bath is regarded by the medium-class French hotel-keeper as a crazy foreign foible…
The Tuileries…is a few cubic yards of ozone in a sea of petrol fumes.
The modern ghetto round the Rue de Temple with its indescribable misery—all anti-Semites who think that the name Jew and financial power are synonyms ought to be taken for a walk here.
And already back in 1936, long before MacDonalds or Starbucks, Fodor bemoaned that
…the central parts of all the great cities of the world increasingly tend to assume the same dreary metropolitan character…like the penetration of the dreadful thing called Americanism.
Fodor worked for army intelligence during the war and the CIA afterwards, which came out during Watergate in 1974. Fodor also cheerfully admitted that many of his writers also worked for the CIA. "But they had to be real writers too," he said. For one cannot live by spying alone.